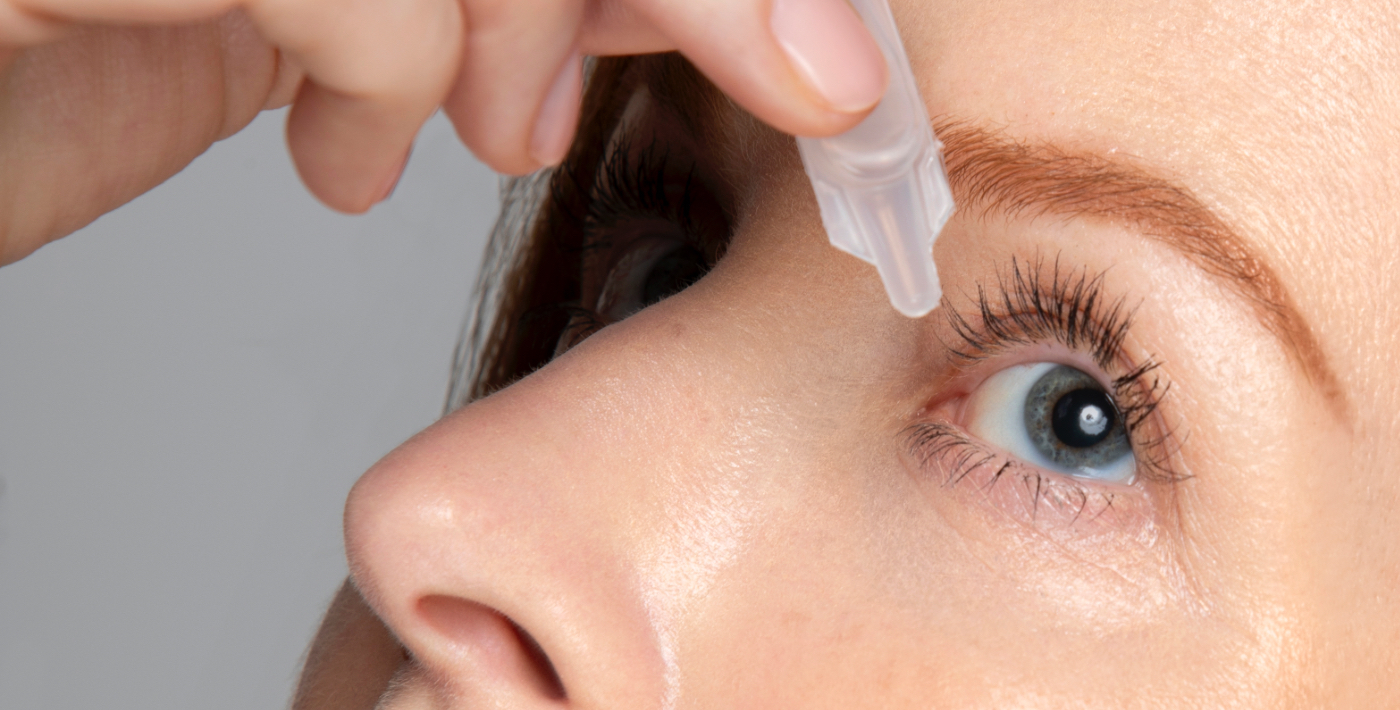 Getting Your Patient
Started With Upneeq®
(oxymetazoline hydrochloride ophthalmic solution), 0.1%
Simple, once-daily dosing1
Step 1:

Cut open foil wrapper and remove single-use vial

Step 2:

Apply 1 drop of Upneeq in each affected eye as directed, once a day

Don't touch eye with the tip of the vial or touch the tip of the vial to any other surface

Throw the single-use vial away immediately after applying drops. Vials should not be re-used after opening

Patients who wear contact lenses should remove them before applying Upneeq eyedrops. Contact lenses can be put back in 15 minutes after applying Upneeq.
If more than one topical ophthalmic drug is being used, the drugs should be administered at least 15 minutes between applications.
For complete instructions on using Upneeq, please see the Instructions for Use section in the full Prescribing Information.
Storage requirements: Upneeq should be stored at 68°F-77°F (20°C-25°C) and should be protected from excessive heat.
Keep out of reach of children.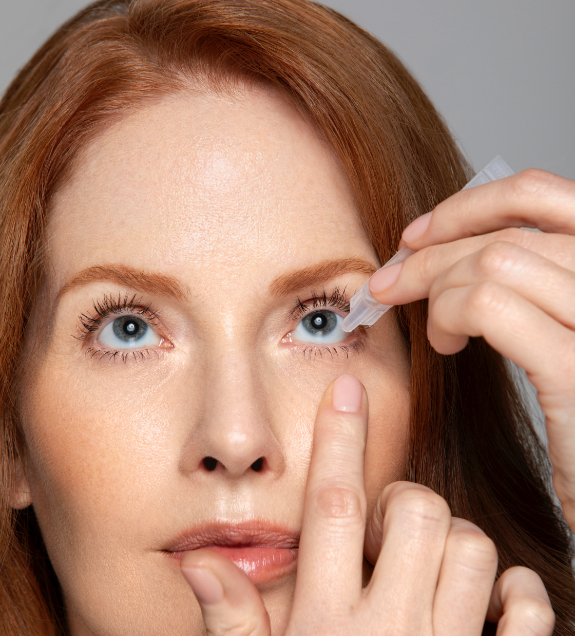 Modernizing prescription access
Upneeq is available for patients under your care for a consistent and uniform price. Treatment is a choice between you and your patient. RVL Pharmacy does not accept payments from insurance providers, therefore accessing Upneeq is free of traditional hassles such as Prior Authorizations, Step Edits, and Callbacks.
Upneeq is available exclusively through RVL Pharmacy. Our friendly and knowledgeable pharmacy staff will contact patients, process Upneeq prescriptions, and facilitate home delivery. Elevate your expectations for what prescription access can be with Upneeq.
Step 1:

Send patient's prescription for Upneeq directly to RVL Pharmacy

Step 2:

Pharmacy contacts patient to review the prescription, collect payment, and answer any questions

Step 3:

Upneeq is shipped directly to the patient's home or preferred destination within 2-4 days following payment

All prescriptions should be sent directly to RVL Pharmacy

844-RVL-EYES
(844-785-3937)
RVL Pharmacy ships to patients everywhere in the U.S. except for the state of California.
RVL Pharmacy transfers prescriptions shipping to California, to KnippeRx Pharmacy.
RVL Pharmacy
2500 Main Street Extension, Suite 10
Sayreville, NJ 08872
Phone: 844-RVL-EYES (844-785-3937)
Fax: 844-567-3937
Hours of Operation: Monday-Friday, 8 AM to 8 PM, Eastern Time
Eye Care Professionals: Send all Upneeq prescriptions and direct all questions to RVL Pharmacy in Sayreville, NJ.
Phone: 844-RVL-EYES (844-785-3937)
- Click here for the address and hours of operation for KnippeRx
1250 Patrol Rd
Charlestown, IN 47111
Phone:
877-354-0292
Fax:
833-626-0715
Hours of Operation: Monday-Friday, 8
AM
to 8
PM
, Eastern Time
ePrescribe
Select RVL Pharmacy in your EMR:

Location

Sayreville, NJ
08872

Phone Number

844-RVL-EYES




(844-785-3937)

HCP FAQs
Get to know Upneeq a little better. Here are some commonly asked questions from HCPs interested in prescribing Upneeq to their patients.
RVL Pharmacy Resources for HCPs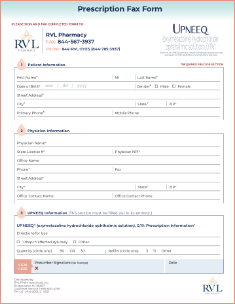 RVL Pharmacy Fax Form
This downloadable form is designed for HCPs who wish to fax prescriptions of Upneeq directly to the RVL Pharmacy.
EXPAND
COLLAPSE
INDICATION
UPNEEQ
®
(oxymetazoline hydrochloride ophthalmic solution), 0.1% is indicated for the treatment of acquired blepharoptosis in adults.
IMPORTANT SAFETY INFORMATION
WARNINGS AND PRECAUTIONS
Ptosis may be associated with neurologic or orbital diseases such as stroke and/or cerebral aneurysm, Horner syndrome, myasthenia gravis, external ophthalmoplegia, orbital infection and orbital masses. Consideration should be given to these conditions in the presence of ptosis with decreased levator muscle function and/or other neurologic signs.

Alpha-adrenergic agonists as a class may impact blood pressure. Advise UPNEEQ patients with cardiovascular disease, orthostatic hypotension, and/or uncontrolled hypertension or hypotension to seek medical care if their condition worsens.

Use UPNEEQ with caution in patients with cerebral or coronary insufficiency or Sjögren's syndrome. Advise patients to seek medical care if signs and symptoms of potentiation of vascular insufficiency develop.

UPNEEQ may increase the risk of angle closure glaucoma in patients with untreated narrow-angle glaucoma. Advise patients to seek immediate medical care if signs and symptoms of acute narrow-angle glaucoma develop.

Patients should not touch the tip of the single patient-use container to their eye or to any surface, in order to avoid eye injury or contamination of the solution.
ADVERSE REACTIONS
Adverse reactions that occurred in 1-5% of subjects treated with UPNEEQ were punctate keratitis, conjunctival hyperemia, dry eye, blurred vision, instillation site pain, eye irritation and headache.
DRUG INTERACTIONS
Alpha-adrenergic agonists, as a class, may impact blood pressure. Caution in using drugs such as beta blockers, anti-hypertensives, and/or cardiac glycosides is advised. Caution should also be exercised in patients receiving alpha adrenergic receptor antagonists such as in the treatment of cardiovascular disease, or benign prostatic hypertrophy.

Caution is advised in patients taking monoamine oxidase inhibitors which can affect the metabolism and uptake of circulating amines.
To report SUSPECTED ADVERSE REACTIONS or product complaints, contact RVL Pharmaceuticals at 1-877-482-3788. You may also report SUSPECTED ADVERSE REACTIONS to the FDA at 1-800-FDA-1088 or www.fda.gov/medwatch.
Reference: 1. Upneeq® (oxymetazoline hydrochloride ophthalmic solution), 0.1%. [Prescribing Information]. RVL Pharmaceuticals, Inc. 2020.